Crazy College GFs presents Special Check Out with Emma Stoned: This guy headed to the library looking for his sexy redhead girlfriend and found her perusing the stacks…he had his camcorder so he started filming her, trying to get her to flash those perfect perky titties with tan lines! She was talked into it but unfortunately she demanded her boyfriend turn off the camera. Too bad for her he's a big fibber and kept things rolling, so we get to see not only those sexy boobies but she sucks his cock and then bends over to get fucked in this CrazyCollegeGFs update! The guy cums into a book and puts it back on the shelf, it looks like someone is destined to have a very special check out sometime in the future. Gross.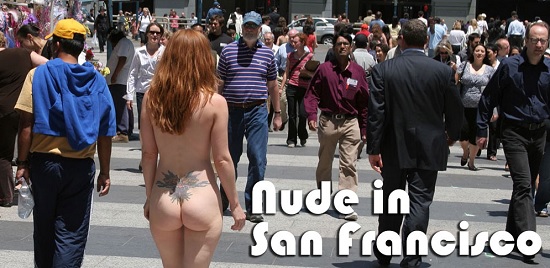 Nude in San Francisco presents Janis at Legion of Honor, it's her second naked walk: Janis gets naked in front of the Legion of Honor. She's seen by several people in the parking lot, but she got kind of nervous so we didn't go all the way to the door.
Click here for 100% full public nudity, beautiful girls fully naked in public exploring the streets of San Francisco. Exhibitionism at it's best at NudeInSF!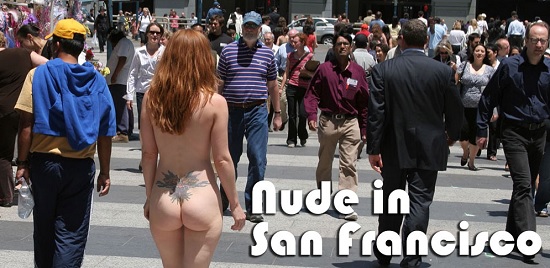 Nude in San Francisco presents Mali at Eureka Valley, it's her fifth naked walk: Mali finishes her naked walk through a quiet neighborhood in Eureka Valley, over the pedestrian bridge over Market Street and back. She stops along the way to spread her ass and pussy for us. As you can see, she is always jumping around so much it is difficult to get her to stand still for a picture!
Click here for 100% full public nudity, beautiful girls fully naked in public exploring the streets of San Francisco. Exhibitionism at it's best!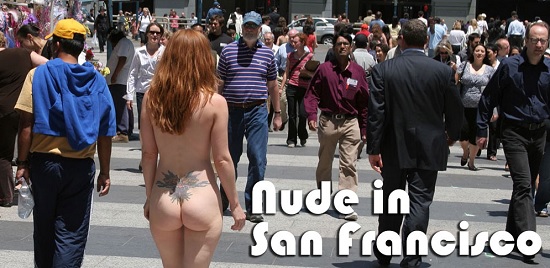 Nude in San Francisco presents Adriana at Noe Valley, it's her first naked walk: Adriana gets naked in the hills above Castro. It's a quiet residential street, but many cars pass by. She escapes in the nick of time. Not two minutes after she puts her clothes back on a police car comes speeding by, obviously looking for the naked girl!
Click here for 100% full public nudity, beautiful girls fully naked in public exploring the streets of San Francisco. Exhibitionism at it's best!


Crazy College GFs presents Park Job with Mandy Sky: Mandy Sky & her boyfriend were hanging out at a public park on a Sunday afternoon. Her BF had his camera out and saw the perfect opportunity to engage Mandy in a naughty fantasy they shared: doing some hot sexual acts in public. Initially, Mandy Sky was hesitant because there were other people in the park not to far away. But after some encouragement, her BF convinced her. In no time, Mandy had his penis out and was jerking it under the park bench. Her BF just told Mandy to kept stroking, and she picked up the pace. It must have been quite an exhilarating sexual experience for him because he busted a massive load that shot several feet from his dick. Mandy had finished him off just in time before some people had just pulled up in the nearby parking lot. Now that(s what you would call Park Job!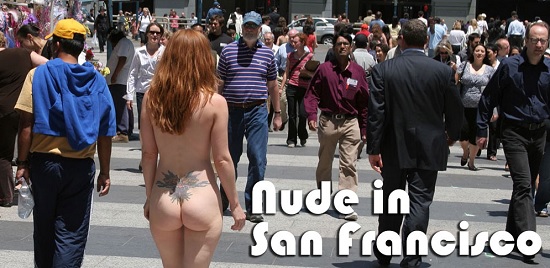 Nude in San Francisco presents Vivian at Brooklyn Promenade, it's her first naked walk: Vivian gets naked on the Brooklyn Promenade, right across the river from two million New Yorkers in Manhattan. It's early but there are still a lot of people, well, promenading, as Brooklynite are wont to do. As you can see, Vivian tries to manage not to be seen, but it's just impossible to hide your intentions when you start to unhook your bra, and the guy with the dog actually comes back to get another look. This sexy exhibitionist walks all up and down and back and forth in front of the Sentinel house (where one of the gates of hell is located, if you don't know).
Click here for 100% full public nudity, beautiful girls fully naked in public exploring the streets of San Francisco. Exhibitionism at it's best!


Crazy College GFs presents Ass Flasher with Carmen Caliente: Carmen was a sexy, sexy college girl with an ass like a Greek goddess. This super naughty girl wanted to pull a stunt on the adjunct in their Astronomy class. She told everyone to get their camera phones ready then Carmen pulled up her skirt and exposed that round, ripe, delicious ass. As she made her way up to his desk, she pulled her panties half-way down her booty. But when Carmen Caliente bent over his desk to hide what she was doing from him, her panties dropped further revealing that entire ass and that nice tight teen pussy. Everyone in the class was filming what she was doing while laughing and joking out loud. This only pissed off the teacher. At the second outburst, he got up to yell at the class, and Carmen Caliente quickly pulled up her panties and lowered her skirt. It was one of the sexiest pranks we've ever seen to date. You'll definitely enjoy it!


Crazy College GFs presents Cutie On The Bus with Natalie Lust: Natalie hadn't seen her boyfriend since between semesters. He wasn't far away at college in the same state, but they had just been so busy. When they finally got together again, they were up to their same old sexual shenanigans. Natalie Lust and her BF liked to be naughty in public. It got them really horny and ready for sex. In this case, the smoking hot redhead teen, Natalie Lust, decided she would flash her nice tits and sweet pussy on the bus while her BF took pics. At one point, she even played with her pussy right there in the back where it was harder for the other passengers to see her. They were so horny by the time they stopped, these two went at it non-stop in his dorm room until it was time for Natalie to get back on the bus and head home, a week later.

Crazy College GFs presents Team Spirit with Tara aka Tiff Bannister: Even though the college football season wasn't in full swing yet, it didn't stop these fans from going all-out at a scrimmage. They were feeling the game vibe, as everybody tailgated before the game. There were a ton of sexy girls and a loads of food on the grill. Everyone was really excited about the game, and some of the girls even tore their outfits into smaller sexier outfits to show more flesh for their favorite players. A few girls took it further yet and pulled off their tops to reveal their hot college tits. During all the commotion, Brian sneaked away with Tara. The other guys went looking for him and eventually found the couple. They secretly watched, as Brian got his cock sucked by Tara. Then, he bent her over and pounded that sweet college pussy from the back in doggy style. Tara loved it, and Brian gave her the best best party gift of the day when he busted that man juice all over her. It was a great tailgate party!

Crazy College GFs presents Naked Rider with Stella May: Nineteen and in college, Stella loved to have a good time, and today was no exception. Her latest fling rode a street bike, so what's an experimental girl to do? Of course, Stella rode naked to get the most from the motor's vibrations. As she got off the bike, the tingly feeling that enveloped her body made her want to get off in another way. In the heat of the moment, Stella May started sucking Brian's cock right on the bike. They even started fucking on the bike, but as the action escalated, they moved inside, so Brain could hit that tight, clean-shaven pussy from every angle. Stella's young supple body was more than enough for Brian. He pounded her deep and hard until he answered Stella May' s pleas for a face full of cum.